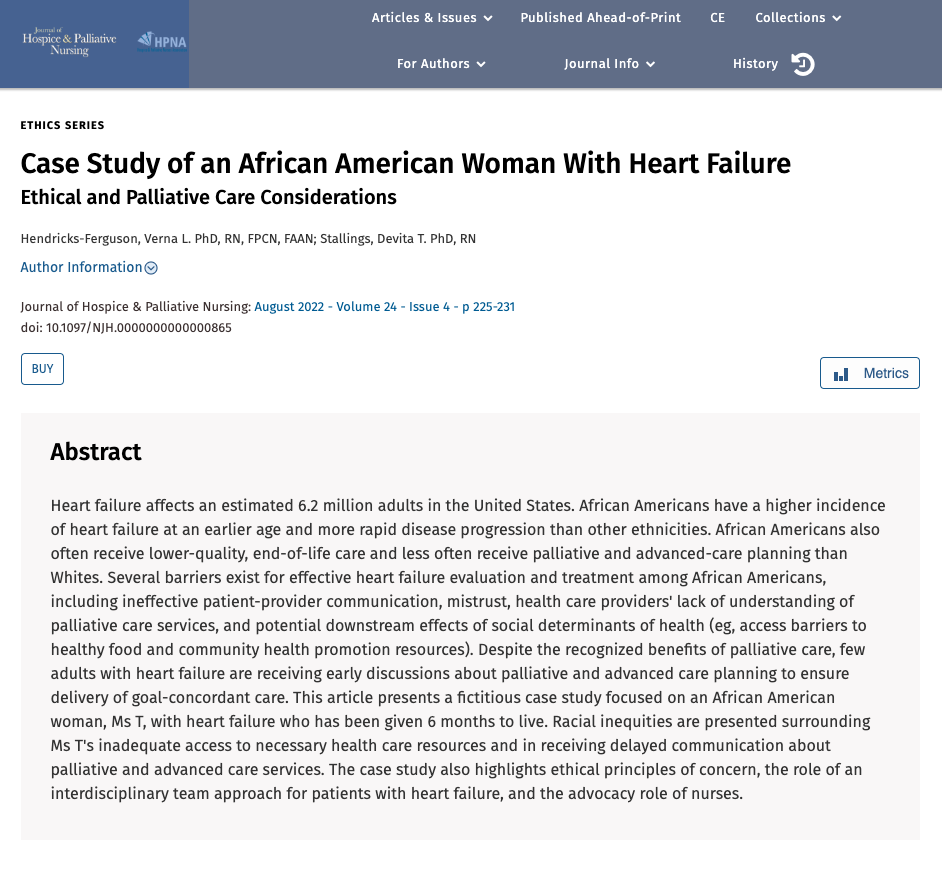 Description: This is a case study of an African American heart failure patient and focuses on social determinants of health and ethics. Mrs. T's case highlights racial inequities related to access to resources and delayed communication about available services and ethical concerns in palliative and end-of-life heart failure care.
AACN Domains: Communication; Compassionate Care; Diversity, Equity, & Inclusion; Ethics; Evidence-Based Practice; Social Determinants of Health
Format: Case Study; Article
Audience: Associates Level; Baccalaureate Level; Graduate Level; Practicing Nurses; Nursing Faculty
Cost: Available from the Journal of Hospice and Palliative Nursing
Tips and Suggestions: Case study is an excellent way to describe and understand ethical considerations and challenges in practice. Could be used in teaching and discussion across health professionals such as in a journal club, or key reading for courses in ethics, palliative care, chronic illness care, and social determinants of health.
Citation: Hendricks-Ferguson, V. L., & Stallings, D. T. (2022). Case Study of an African American Woman with Heart Failure: Ethical and Palliative Care Considerations. Journal of Hospice and Palliative Nursing: JHPN: The Official Journal of the Hospice and Palliative Nurses Association, 24(4), 225–231. https://doi.org/10.1097/NJH.0000000000000865