Join Us at Our May 16 Summit!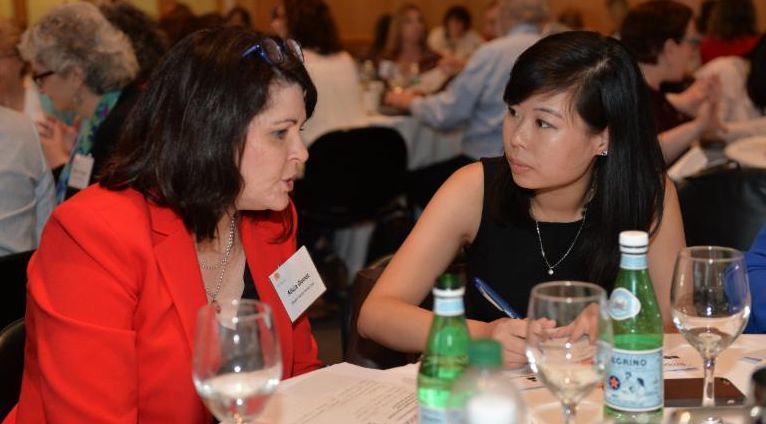 Thursday, May 16, 2019
9:30 a.m. - 2:00 p.m.
The John F. Kennedy Presidential Library and Museum
Columbia Point, Boston MA
Mark your calendar for the Coalition's fourth annual summit! Last year we explored what it takes to make progress on complex public health issues and generate sustainable social change. As a follow-up this year, we will share the results of our current research focused on public messaging aimed at understanding how best to engage different segments of the population in conversations about what really matters to their life and health. Also featured will be an interactive session with attendees, where we will provide resources that can be used to help incorporate the research insights and language into current work. A more detailed agenda will follow. Register below.
---
Creating a Path Toward Better Advance Care Planning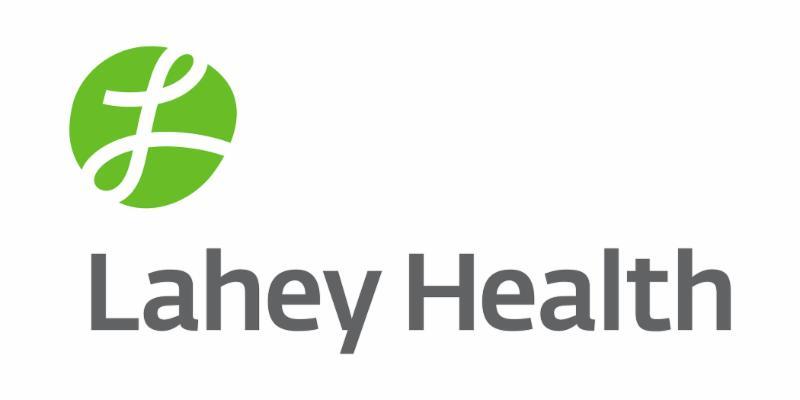 In 2017, Lahey Health formed a multidisciplinary work group to develop an advance care planning (ACP) quality metric. The 15-member work group included representatives from several areas including primary care, quality and safety, home care, ethics, behavioral medicine, palliative care, the accountable care unit, advanced practice, and the patient and family advisory council.
After reviewing some baseline data, members of the work group evaluated records of patients of Lahey Health primary care providers who use the electronic record system and found that:
More than 40 percent of patients in their nineties had not determined a health care agent in a health care proxy (HCP).
Only half of patients in their eighties had completed a HCP.
Between 20 percent and 40 percent of patients in their forties to seventies had completed a HCP.
Dr. Wayne Saltsman, Chief Medical Officer for Lahey Health Continuing Care, who was charged with assembling the work group, and developing the ACP metric, noted that the baseline data made it clear to the work group that ACP was essential to improving those statistics and patient care. "To have these conversations with patients, especially older patients, would be a way to better understand their goals and wishes and offer a means by which their providers could optimize their care," said Dr. Saltsman.
Given that a potential result of ACP could be the generation of more HCPs, the work group developed potential strategies to encourage a patient to complete a HCP.
The work group decided to use the language and resources developed by Honoring Choices, a partner of Lahey Health since 2013. "The primary care physician on our work group who was already championing Honoring Choices messaging set the stage for what the rest of the group could do," Dr. Saltsman noted.
The work group developed additional materials, including a brochure, for primary care physicians to give to their patients along with a HCP form and instructions for completing the form. The brochure outlined how ACP discussions were beneficial at any stage of life.
The group also advocated for improving ACP work flows in the electronic medical record, so that completed health care proxy forms (ideally generated from ACP discussions) could be better documented by not only primary care practitioners, but any practitioner involved in a patient's care.
According to Dr. Saltsman, the group saw other opportunities to promote ACP discussion and the potential generation of HCPs. They included onboarding materials for new employee orientation, wellness initiatives for a health insurance subsidy, homecare visiting nurses review with patients and families, and elective surgery pre-registration and provider assessments.
The Lahey Health work group continues to work on developing a standardized process for ACP, with a special focus on documentation of patient capacity and surrogacy to ask who patients would want to be contacted if they were unable to advocate for themselves regarding complex health care matters and to ensure that their choice of surrogate understood and agreed with their goals and wishes for care.
The group will review data later this year to evaluate the impact of the changes from the baseline where they started. Dr. Saltsman noted, "The ultimate goal is to take care of patients the way they want us to, in order to reflect their healthcare agendas, not ours." Promising early data has shown that one of the work group's initiatives generated more than 2,100 new health care proxies in the fall of 2018.
To find out more information about Lahey Health's efforts to improve advance care planning, please contact them at this email address.
If you have a story to share about your organization, please let us know! Contact Richard Averbuch at [email protected].
---
Faith Leaders Explore Advance Care Planning
Upcoming Event:
Dying Well: A Multi-Religious Conference on End-of-Life Conversations
April 2, 2019
Hebrew College, 160 Herrick Road, Newton Centre, MA
8:30-2:30 p.m.
This program is sponsored by the nine schools of the Boston Theological Interreligious Consortium,* The Conversation Project, and the Massachusetts Coalition for Serious Illness Care.
The Rev. Dr. Gloria White-Hammond will be one of the keynote speakers, and the conference will include an introduction to "Hello," The Conversation Game about Living and Dying and What Matters Most; a Q&A panel with scholars in the field representing different religious traditions; and a presentation from The Conversation Project, the Boston-based non-profit dedicated to working with individuals and institutions to help people talk about their wishes for end-of-life care.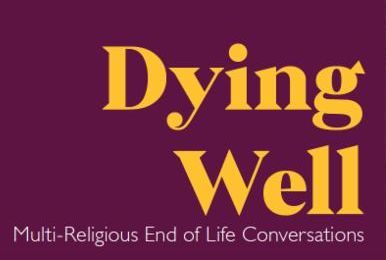 Contact Alix Brandon (or 617-353-7664) for further information.
*Boston College Department of Theology, Boston College School of Theology and Ministry, Boston University School of Theology, Gordon-Conwell Theological Seminary, Hartford Seminary, Harvard Divinity School, Hebrew College, Holy Cross Greek Orthodox School of Theology, Saint John's Seminary
---
Empowering Nurses to Advocate for Patients and Families
Nurses play a crucial role in caring for patients with serious illness patients and in supporting their families. Yet many nurses struggle to have their voices heard in the process. The End-of Life-Nursing Education Consortium (ELNEC) CORE Train the Trainer Program at UMASS School of Nursing in Worcester April 25-26 is designed to change that. "Nurses are often the professionals on the healthcare team coordinating the care and collaborating with physicians and colleagues about what patients need," says instructor Dr. Anne-Marie Barron, PhD, RN, PMHCNS-BC-FAAN and Associate Dean for Health Sciences at Simmons University. "Having the nurses feel they have the confidence and skill to understand their needs clearly is a benefit for the entire team and most importantly for the patients and families." The training program is designed to provide participants with both knowledge they can apply in their work and teaching strategies they can use to share what they learn with their colleagues.
The two-day training session will cover a comprehensive list of topics including pain and symptom management, ethics, cultural considerations, bereavement, and care during the final hours of a patient's life. "The course empowers nurses as to what happens during serious illness and how they can prod their colleagues to make sure their patients have a care plan that respects their wishes," says National ELNEC faculty member Connie Dahlin, APRN-BC, ACHPN, FPCN, FAAN. Self-care is another important area of focus. "Health care professionals encounter a great deal of suffering as patients deal with serious illness," says Dr. Barron. "Nurses need to nurture the deepest parts of themselves so they can be present for each other as well as for patients and families." Participants will also receive an overview of palliative nursing communication as well as a review of ELNEC resources to achieve quality palliative care.
The ELNEC Project is a national end-of-life educational program administered by City of Hope (COH) and the American Association of Colleges of Nursing (AACN) designed to enhance palliative care in nursing. "The ELNEC Project is about taking care of patients and families as they live with serious illness, not just at the end of life, "says Dr. Susan DeSanto-Madeya, Ph.D, RN, APRN-CNS, Associate Clinical Professor in the Connell School of Nursing at Boston College. ELNEC training programs have reached more than 24,000 nurses and other healthcare professionals representing all 50 U.S. states, plus 99 international countries.
The ELNEC Project was originally funded by a grant from The Robert Wood Johnson Foundation with additional support from funding organizations including Aetna Foundation, Archstone Foundation, California HealthCare Foundation, Cambia Health Foundation, Milbank Foundation for Rehabilitation, National Cancer Institute, Oncology Nursing Foundation, Open Society Institute/Foundation, and the U.S. Department of Veterans Affairs.
Please visit this website for information about the ELNEC Project.
---
National Healthcare Decisions Day: April 16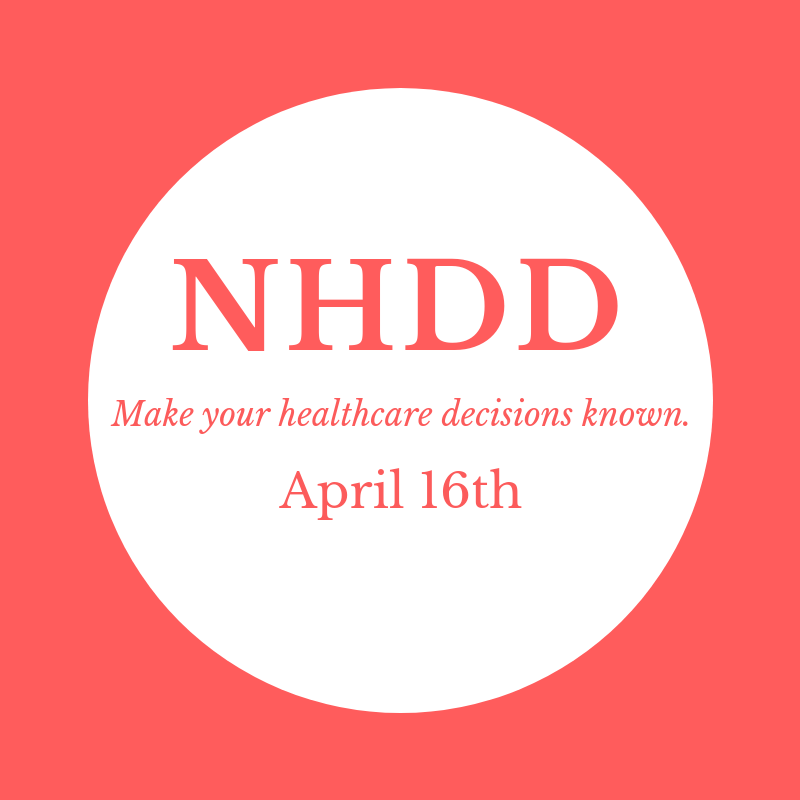 National Healthcare Decisions Day (NHDD) is right around the corner! NHDD is an initiative to encourage people to express their wishes regarding healthcare and for providers and facilities to respect those wishes, whatever they may be. It's important to understand that NHDD is not only about end-of-life care but also meant to reach a much broader spectrum of individuals so that every individual may have their healthcare wishes met. Interested in joining the movement? Visit the NHDD blog page to get inspired. And then get access to the NHDD promotional toolkit.
---

---