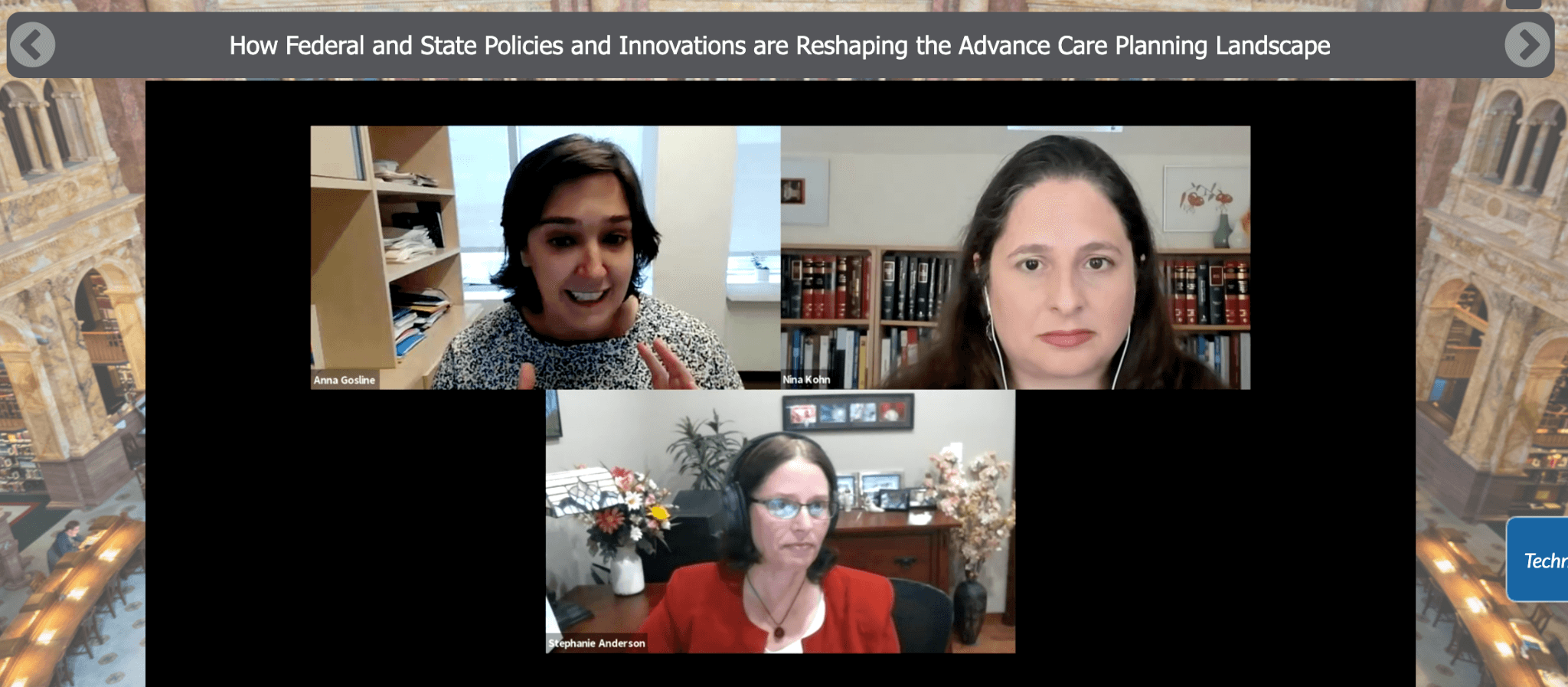 C-TAC, the Coalition to Transform Advanced Care, recently held their 2021 Policy Forum, and our executive director Anna Gosline served as a guest speaker in one of the sessions, "How Federal and State Policies and Innovations are Reshaping the Advance Care Planning Landscape." Alongside Anna in the panel discussion were Stephanie Anderson, Executive Director at Respecting Choices, a division of C-TAC Innovations; and Nina Kohn, David M. Levy Professor of Law, Faculty Director of Online Education and Professor, Syracuse University; Solomon Center Distinguished Scholar in Elder Law at Yale Law School.
Anna, Stephanie and Nina shared insights on legislative and regulatory policies that strengthen and support advanced care planning (ACP) services for those most at risk among us. For example, Nina is working with the Uniform Law Commission, a non-profit unincorporated association, comprised of state commissions on uniform laws from each state, the District of Columbia, the Commonwealth of Puerto Rico, and the U.S. Virgin Islands, to help states update their laws to reflect what we know about ACP, including addressing some of the primary barriers patients face in accessing ACP.
As the executive director of Respecting Choices, an arm of C-TAC Innovations, Stephanie shared about C-TAC's robust policy agenda to help achieve the goal to know and honor health care preferences. C-TAC takes the position that Medicare's coverage of ACP services should be expanded through two main mechanisms: eliminating patient co-pays and expanding the provider types that can carry out ACP services.
Anna shared a little bit about the Coalition's public policy working group that is taking an equity-first approach to its work by prioritizing policy ideas and solutions that will have the greatest impact on communities of color, low income communities, people with disabilities and people living in care facilities. While that work is likely to highlight broader opportunities and priorities, ACP is still clearly on the agenda. For example, last year, the Coalition sponsored a practicum project for a Harvard University Masters of Bioethics student, looking at potential systems or structures that could connect people with health care proxies, given that roughly 40% of people who don't have a proxy say they don't have anyone to pick, according to the Coalition's 2018 research.
The panelists also talked about how the COVID-19 pandemic has reinforced the importance of ACP as well as bringing to light the many challenges we face in ensuring all patients have ACP in place for when they need it most. One challenge patients face in completing ACP is accessing the forms themselves, but now significant progress is being made in transferring this process to the digital space. Anna talked about how the timing of this work couldn't be more exciting because, having gone through the COVID-19 pandemic where we all had to rely more heavily on technology, we're now better informed of what we need for ACP in the digital space. Anna shared, "The challenges and barriers that were put in front of us, and the flexibilities that were allowed, have given us laser focus to point to what's really important--electronic documents and e-signatures."