The Massachusetts Medical Schools' Collaborative conducted eight focus groups with medical students to understand their perspectives on their training in serious illness communication and palliative care. In this qualitative study, 50 fourth-year medical students from Boston University School of Medicine, Harvard Medical School, Tufts University School of Medicine, and UMass Chan Medical School shared their thoughts and experience. Six key themes emerged.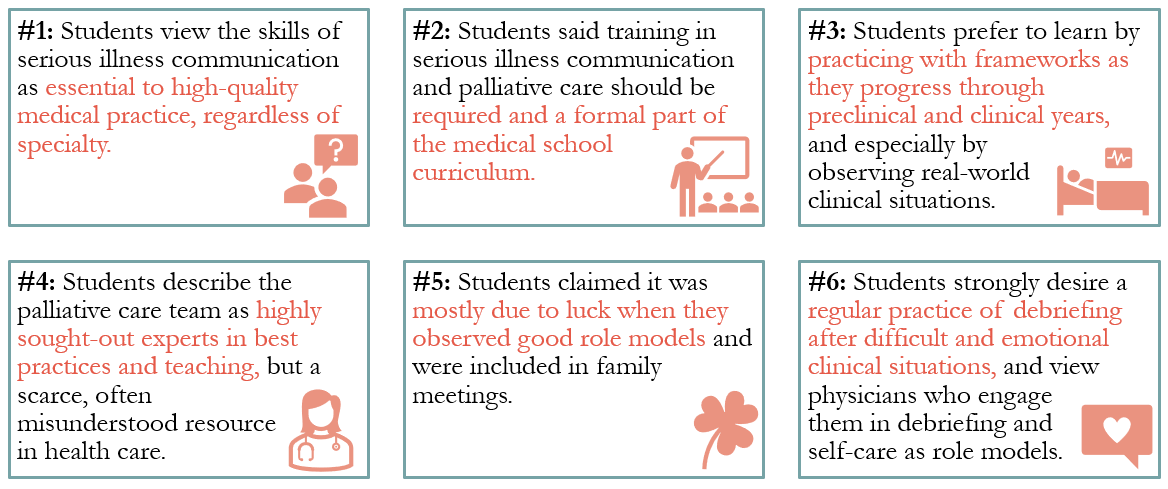 ​
Read the Report Download Slides
---
In the students' own words...
Hear from other students:
"I think you can glean a lot…about how to be successful and effective by watching other people give you either good or bad examples. It's very interesting, though, because there are very few other things that people do professionally or otherwise where we expect people to gain proficiency through observation alone."

"So on the wards I often had to advocate, like 'I really want to have this conversation with this patient. Can I give it a try?' And the resident says, 'Oh yeah, sure, if you want to.' But it wasn't valued in the same way as, like, 'Oh, I want to try and do this procedure, put in this line or take on this new admission.' So I think it's part of a value system and part of the medical hierarchy."

"Due to serendipity, l [worked with] a couple of attendings who felt very passionately…and really pushed me to consider how can I have these conversations. Having that additional propulsion, I would say, and the encouragement to really tackle those conversations, I definitely came out feeling rather surprised I was able to have these conversations even if we were having a really heavy workday."

"There's something to be said for being honest with yourself, like 'Am I consulting palliative care because this is truly a complex situation that is beyond my expertise to handle, or is it just that I don't want to talk about death, it's scary and I'm uncomfortable?'"
---
Acknowledgements
These reports are a summary of the data analysis presented in a full report written by Dr. Roberta Goldman, Alpert Medical School of Brown University. We acknowledge the leadership provided by Jennifer Reidy, Anna Gosline, and Stephanie Chan, along with the qualitative coding expertise of Patricia Stebbins. This work was supported by the Massachusetts Coalition for Serious Illness Care.
In addition, we want to thank the following project faculty and medical students (denoted by an asterisk *) involved in recruiting focus group participants and analyzing transcripts:
Boston University School of Medicine: Hollis Day, Priya Garg, Matthew Gasteiger*, Sarah Morgan*, and Megan Young
Harvard Medical School: Kate Brizzi, Carolina Jaramillo*, and Irene Yeh
Tufts University School of Medicine: Scott Epstein, Emma Livne*, Isabella Stumpf, and Tamara Vesel
UMass Chan Medical School: Kayla Daniell*, Melissa Fischer, Rose Healy*, Suzanne Mitchell, Molly Olmsted*, Hayden Peirce*, Jennifer Reidy, and Emily Vicks*